Contemporary World Film Series 07: Leila
Wednesday 14 Feb 2018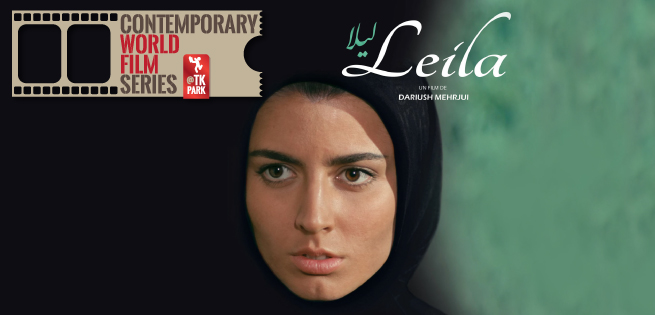 'Contemporary World Film Series' at TK park
OPENING FILM OF 2018 !
'LEILA', IRAN, 1 hr 42 mins, directed by Dariush Mehrjui
SATURDAY, 10 FEBRUARY, at 4 pm
We are proud to present Leila as our Opening Film of 2018.
It has often been described as one of the best films in Iranian cinema, and is directed by one of the country's most admired film-makers, Dariush Meherjui.
The movie is an amazing example of how the most intimate of dramas can be portrayed with insight and intensity, minus intimate scenes or actions, which is the hallmark of Iran's austere but world-renowned cinema.
Leila and Reza are a deeply-in-love married couple, who come from modern, upper class families.
When Leila learns she is infertile and cannot have children, her husband is cool about it, but not his mother. The latter convinces Leila that it is her duty to allow him to marry again (permissible by Muslim law). Leila is disturbed, but agrees to it, much to her husband's confusion. When he does marry again, they realize that it affects both of them much more than they expected.
This is totally a woman-oriented film, which is not very common in Iranian cinema. Actress Leila Hatami is outstanding in the titular role (her 2011 Oscar-winning film A Separation made this Iranian artiste, world-famous)). She is ably supported by the marvelous actor Ali Mosaffa, who enacts her husband. Their masterful performances make this stark and simple domestic drama, totally riveting.
The film has won over critics and audiences, all around the world.
What the Critics Said:
New York Times:
Without being simplistic, a gripping and beautifully acted film.
San Francisco Chronicle:
Director Dariush Mehrjui, celebrated as one of the great filmmakers of Iran, portrays a haunting drama about domestic life in contemporary Tehran.
Film Journal International:
From the first frame to the last, you feel an intimacy with Leila that is the result of flawless direction and excellent writing.
The screening of LEILA is supported by the Cultural Center of the Embassy of the Islamic Republic of Iran in Bangkok, who will serve a variety of Iranian snacks and tea, after the screening.
Ambassador of Iran HE Mohsen Mohammadi will introduce the film.
*** (The film is suitable for age-group 16+) ****
Film Auditorium will open at 3:00 pm
For Reservations: yuttinai@tkpark.or.th, filmforum17@gmail.com or https://goo.gl/forms/QzXLwYwNhdGVpvKR2
Please Reserve Early, to ensure seats.
(20 Baht Entry Fee for One-Day Pass. For Annual Membership, please check www.tkpark.or.th )