Telling Tales, Reading Life Lessons
Wednesday 17 May 2017
"Telling Tales, Reading Life Lessons",
The 12th "Sharpen Your Brain, Test Your Wisdom" Project to win the royal trophy from H.R.H Princess Maha Chakri Sirindhorn
Thailand Knowledge Park (TK park) together with its network alliance comprising Mother & Care magazine; Books for Children Foundation and National Food Institute, Ministry of Industry jointly held a press conference to launch the 12th "Sharpen Your Brain, Test Your Wisdom" project in the concept of "Telling Tales, Reading Life Lessons" to seek young talented storyteller today (17 May, 2017) at TK part, 8th Floor, Central World, Bangkok.
The "Sharpen Your Brain, Test Your Wisdom" project has been organised for 12th consecutive years with aims to raise awareness of the importance of reading among children, parents, teachers and relevant organizations as well as promote the family tie through reading. The project allows children to express their creativity naturally through storytelling which is developed from bedtime storytelling by parents and telling tales at school by teachers. It is hoping that this activity will help to promote reading habits among Thai youths and establish reading culture in Thai society.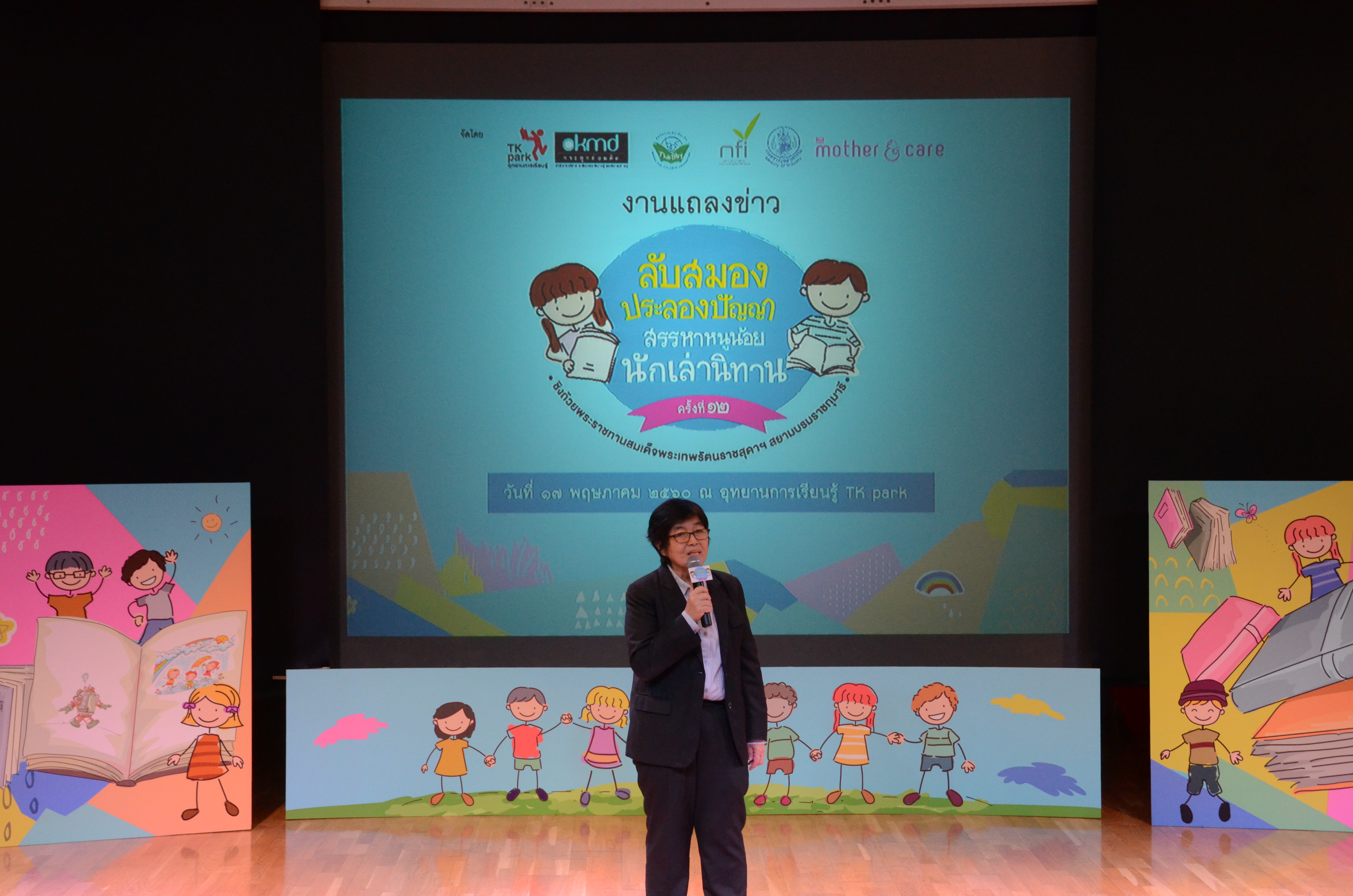 Dr. Tassanai Wongpisetkul, TK park's advisor revealed the 11-year success of this project: "This project will be held for the 12th time this year. The key of its success is to not make the conpetition too competitive. Each of our applicants is young talent with quality and capability. Children attending this project in the previous years has become role models and source of inspiration for the next generations. Once the children have seen their senior friends doing this, they will realize they can do it as well. The children voluntarily stepped into this project mainly because they want to develop themselves. We have seen our chidren growing up – some are becoming university students. We can say that we've never left our children and continuously follow their development. We can see that they have more self confidence, better speaking skills and be able to express their thoughts and feelings in appropriate ways, all of which are essential to becoming a successful adult."
"I hope that by joining this project, children will be able to learn more about life skills. They are allowed to choose the story they want to tell. The competition is not about reading aloud but the children must understand the story they're telling and meaning of each sentence. This way, they will learn about themselves as well as improve their life skills and social skills which are the fundamentals of living in society"
Ms.Suthathip Thatchayapong, vice president of the Books for Children Foundation, said: "I'm glad to see that common activity like bedtime storytelling can be developed into a national project in which the children are encouraged to tell tales to adults. Although the number of children attending this year's project is not as much as those in the first 5-6 years, our children have more quality and concentration. Teachers and parents also have a better understanding of the project's purpose, not forcing or directing their children to act unnaturally. That is why in recent years, the children could tell tales naturally and happily. I'd like to see the children telling story in their own style. Most of all, they should read a lot. The more they read, the better storyteller they will become."
Ms.Suangmon Sittisaman, managing editor of Mother & Care magazine, concluded that under the concept of "Telling Tales, Reading Life Lessons", the children will have a chance to tell a story – that is 'Telling Tales'. For 'Reading Life Lessons', the audience will learn to read the children's life, whether it is their reading background or life skills such as self confidence, self assurance and personality, through storytelling. If they grew up in a reading family, they will become a good storyteller and in the future, will be able to transfer their life experience to the next generations.
"This project has been run for twelve years and has gradually improved in term of quality. Every year, we talked to the parents to make sure that they understood the purpose of this project. We don't want to focus on quantity, but quality. We've designed different selective process for competition in each region. This year, we will still travel around the country to find young talents."
The 12th "Sharpen Your Brain, Test Your Wisdom" project is one-man storytelling contest organised for children of 4-6 years old and 6-9 years old. The qualifying rounds for central Thailand, northern region, northeastern region and southern region will be held in Bangkok, Chiang Mai, Ubon Ratchathani and Hat Yai respectively. Selected applicants will join the final round in Bangkok.
The competition will be open for qualified children around the country. The first winner will receive the trophy from Her Royal Highness Princess Maha Chakri Sirindhorn, scholarship, and certificate.
The application is open until 15 June 2017
Application:
- Fax the completed form to 02-241-3855, or scan and email it to motherandcare@hotmail.com, or mail it to Mother & Care magazine, GM Group Building 914, Phraram V Rd., Nakorn Chai Si, Dusit, Bangkok 10300
- Application form can be downloaded or apply online at www.motherandcare.in.th or www.tkpark.or.th
- Or apply atschools and organizations under this project.
For more information, visit:
- www.motherandcare.in.th or facebook/motherandcare
- www.tkpark.or.th or facebook/tkparkclub
- or call 02 241 8000 ext. 212, 214, 215