Wednesday 24 Aug 2016
Award Winners Announced for TK park's Short Films Contest
To Win the Royal Trophy from HRH Princess Maha Chakri Sirindhorn
TK park in collaboration with the Internet Foundation for the Development of Thailand recently hosted an award presentation ceremony of the 2016 Creative Digital Media Contest, Short Film Category, at TK park, 8th floor, Central World, to present the royal trophy from HRH Princess Maha Chakri Sirindhorn to the top prize winner.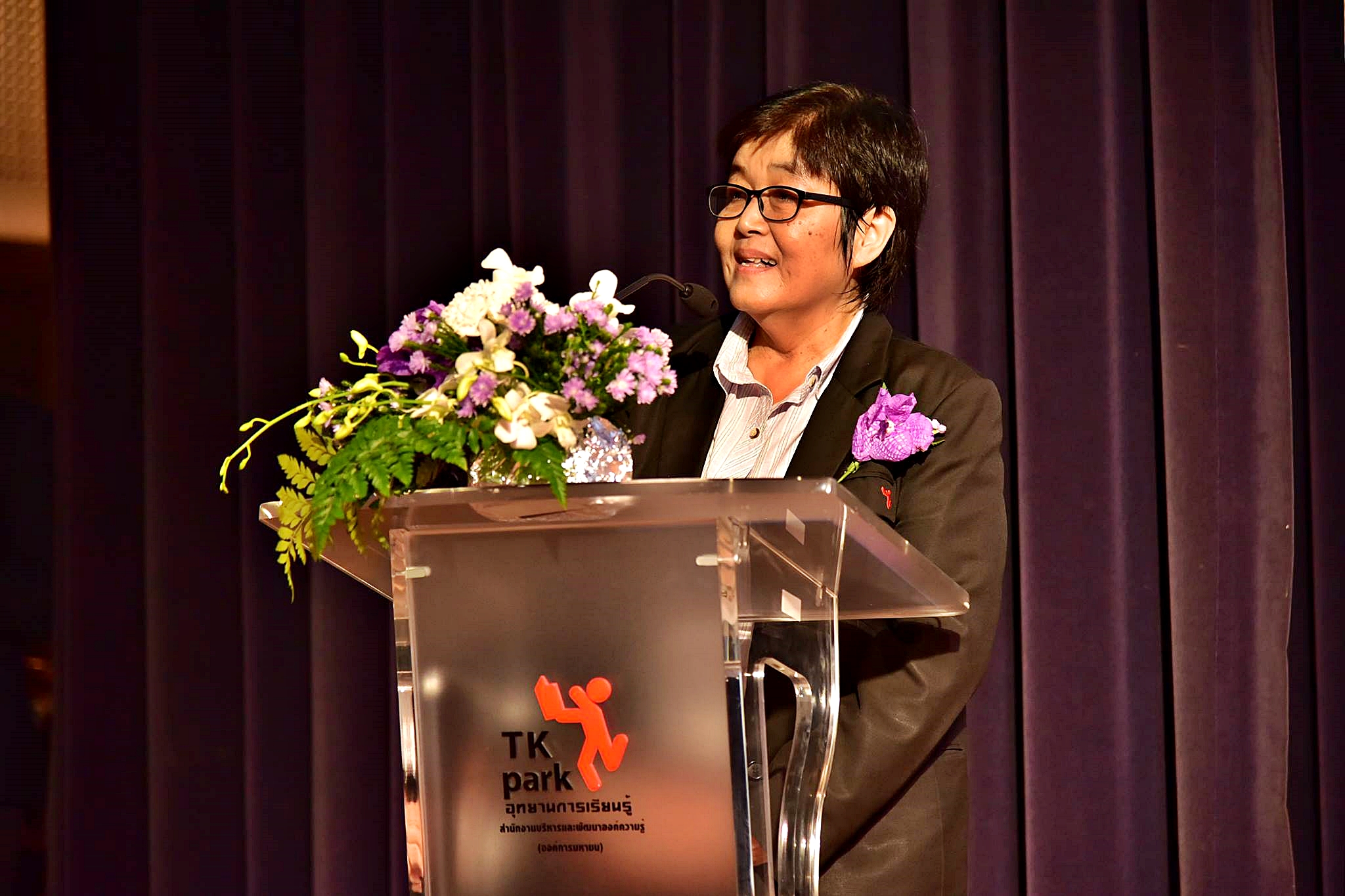 Leading by Dr. Tassanai Wongpisetkul, Advisor of TK park, the Office of Knowledge Management and Development (Public Organisation), TK park has joined hands with the Internet Foundation for the Development of Thailand to host a digital filmmaking workshop for teachers, students and the general public with an aim to equip them with creative learning media development skills. After the workshop, the participants were invited to enrol in the Short Films Contest to win the royal trophy from HRH Princess Maha Chakri Sirindhorn. The contest, being run for eighth consecutive years, will provide learning media resources for Thai society as well as inspire Thai youths to use ICT in a creative and positive way.
Supitcha Chaithammapakorn, the representative of the Internet Foundation for the Development of Thailand and Head of this project revealed that this year's program featured a filmmaking workshop attended by 135 film lovers and amateur film makers. During four days of the trainings, the participants had learned methods and techniques to create a short firm covering story telling techniques, performance, filming, camera using, editing, sequence of shots as well as dubbing and sound effect. Organised in conjunction with the workshop was a public tutorial featuring lessons on filmmaking process and outstanding techniques selected from some famous short films. The event was joined by 375 film enthusiasts.
The Short Films Contest, organised after the workshop and the tutorial, has gathered 82 film entries in five different topics set to promote media literacy, good citizen practice, nonviolence practice, anti-sexual harassment and creative media usage. A selection of 15 short films were screened by experienced jury comprising Asst. Prof. Boonliang Kaewnapan, Chairman of Media Arts Program, King Mongkut's University of Techology Thonburi; Nimit Pipitkul, CEO of Media at Young Studio; Pakorn Santisunthornkul, Executive and Co-founder of www.dekdee.com; Dr. Srida Tanta-atipanit, Manager of the Internet Foundation for the Development of Thailand and Asarin Nonthihathai, TK park's Head of Activity Department.
The short films by 15 finalists will be presented to HRH Princess Maha Chakri Sirindhorn to distribute to schools, learning centres or use for other royal purposes.
Thanapat Srimart and Phumrapee Ruangsri, ninth-grade students from Setthabutbamphen School, who grabbed the first prize from their short film entitled "My Everything"(Took Sing Took Yang Khong Luk) said that this is the first time they won an award. They are excited and so proud that they have brought such an honour to their school. Plus, their short film will be screened and bring inspiration to a wider range of people.
Juthamas Banjob, the young winners'teacher, said that this short film is an attempt to stop violence that has been unceasingly occurred in Thai society, especially domestic violence which happens in the first and most important institution for children. Portraying the consequences of using such violence, the film will instil nonviolence value in children as well as promote a better understanding between children and their parents, leading to closer relationship within families.
"I would like to encourage any schools that have never been enrolled to enrol in the next year's project. This project helps to promote learning activities among children and allows them to learn by doing through a creative media development workshop."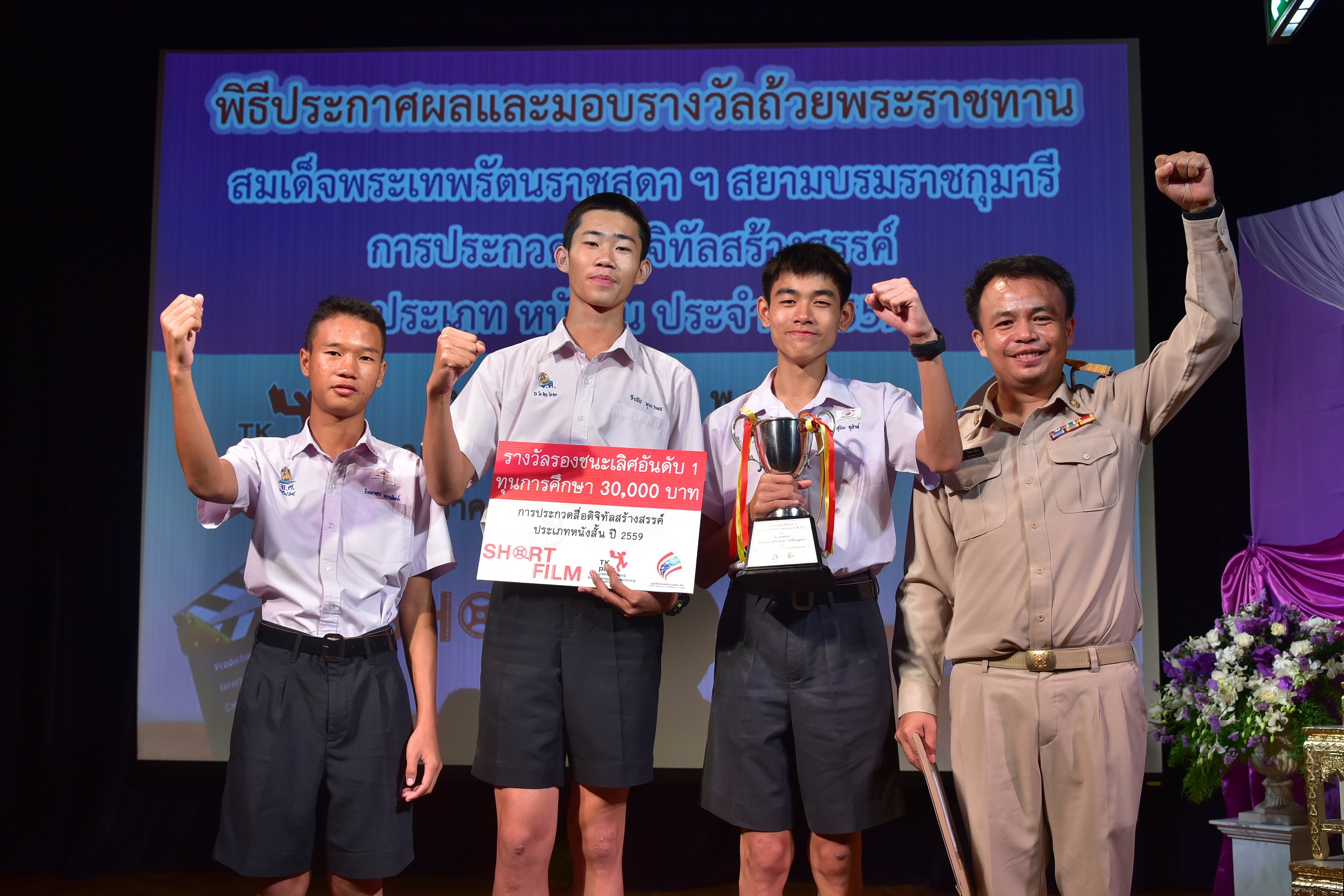 Suriya Usah, eleventh-grade student of Charoensilpsuksa Phokham Anusorn School, the first runner-up and filmmaker of "Tongdee"said that his film encircles the kindheartedness towards creature livings. He tells a story about a boy who wants to help a stray dog despise the opposing from people around. Instead of giving up, the boy turns to social media, using technology and social network to raise fund for the dog.
"I would like to follow the royal guidance of His Majesty the King regarding doing good deeds —doing good deeds can't be delayed and it doesn't matter if others don't know what we're doing. With or without their cooperations, the results will be definitely good. Through this short film, I'm telling you that if we want to do good things with good intention, we have to do it with all our might. As long as it doesn't cause us trouble, we don't have to wait."
Worawit Chaiwongkhot, Suriya's advisor added that this is a beneficial project since each film reflects teenagers'points of view, making the adults to be able to understand their thoughts towards each issue.
Ton, whose "Invaluable Lesson"won a second runner-up said that his film unveils the invaluable experience derived from involving with dangerous things as being shared by his fellow friends in Baan Karuna Children and Youth Training Centre. Despise the truth that their risky behaviours might be the consequences of difficult circumstances, it would be better not to involve in those circumstances from the beginning.
"This is the second year we attended this project and won the runner-up award. This project allows children to express their thoughts and perspectives. I would like to thanks my teacher for all supports and encouragement which helped me a lot in creating this work, making me proud."
Full List of The Winners
Top prize winner is awarded a trophy from HRH Princess Maha Chakri Sirindhorn, a certificate and cash prize of 50,000 baht
"My Everything"by Setthabutbamphen School
The first runner-up is awarded a trophy, a certificate and cash prize of 30,000 baht
"Tongdee"by Charoensilpsuksa Phokham Anusorn School
The second runner-up is awarded a trophy, a certificate and cash prize of 15,000 baht
"Invaluable Lesson"by Baan Karuna Children and Youth Training Centre
Honourable mention winners are awarded a certificate and cash prize of 5,000 baht
"Orange Bicycle"by Marie Wittaya Prachinburi School
"True Story through the Wall"by Rahu Film
"Tanaree"by The Productionman Studio
Special jury award winners are granted a certificate and cash prize of 2,000 baht
"Pim"by Pichai School
"Toys"by Panomprai Wittayakarn School
"The Converse"by Aukul Wittaya School
"The Judgement"by Naresuan University Secondary Demonstration School
"Final Exit"by Tak Pittayakom School
"My Opinion"by Suan Sunandha Rajabhat University
"The Rabbit and the Turtle"by Joseph Upatham School
"Sex…can be good"by Pakkad Pittayakom School
"Dangerous Chat"by Wat Awut Wikasitaram School