Singto Numchok Rising to International Fame
Saturday 16 Jul 2016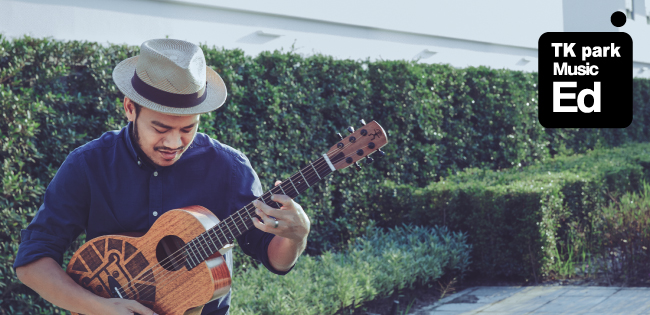 Singto Numchok, Rising to International Fame
To compose a song, we may need language to communicate our ideas and feelings to audience but the song itself is universal. People of all nations can feel it through melody. However, it would be better if both language and melody can work together to convey the message of happiness and harmony that everyone can enjoy.
Singto Numchok or Numchok Tanadram is talented surf music singer and songwriter. His work includes such famous songs as "Yoo Tor Loey Dai Mai"(Can you stay longer), "Ter Kue Kong Kwan"(You are present), and "Uh Huh". Recently, he was the representative of Thai artists to perform on international stage.
TK Music Ed. 2016 has brought this talented artist to meet with his young fans and reveal his secrets about improving English language, song composition, and preparation for international level. His journey in music industry has provided lessons for the next generation to learn.
Singto told us that his idea to compose songs in English has come from listening and singing English songs a lot "In the beginning of my career, I had to sing many English songs. My English language was not good then, so I was mocked that my English isn't understandable. Since then, I've tried to study more. When I went to England, even my English was not 100 percent correct, I tried to speak English as much as possible."
His domestic success has paved the way for international fame. His first performance outside Thailand happened at Ukulele Festival in Hawaii "In that concert I played only Thai songs and most audience couldn't understand what I was singing because they didn't know Thai. I had to explain to them what those songs mean. The following year, I was invited again. So I have this idea that why don't I translate the songs into English. This is the reason I've made this album."Singto is talking about "Sticky Rice"(2013), his first English language album.
This album is the start of his international career. After its launch, he was invited to perform in Singapore and Australia. "The song 'Wake Up' in the first album is the work of me and my wife. Since we usually listen to English songs, we would like to see if we can compose a song in English.'Uh Huh'is the song I entirely wrote by myself. It is pretty short and my wife helped by checking the wording."
When Singto composes a song, the melody always comes first. "It is very important that I have to begin from melody. I used to compose a song beginning from writing lyric and it turned out to sound like others'. That's because our brains remember those melody unintentionally. To avoid this problem, I would always begin from melody, humming the tune out so I can see that it is a song of my own, not others'. If not, chances are that your songs will sound like others' and it will look like you're copying someone else's songs. This is the problem for many Thai composers."
After getting melody, Singto would start writing lyric. He's got inspiration from his everyday life, people around and imagination. "Most of my inspiration comes from my own life or my friends. Since I've been married and have my own kids, heartbreaking is not something I would write about. So I have to use my imagination. In the music video "Yoo Tor Loey Dai Mai", there's a scene that the man waiting for the womanlto invite him for a coffee. This scene might be cliche but i think it's classic and wanted to add it in my video. So I had to imagine this part."All of his albums are the collaboration with his two producers, Tum Monotone (Sathapat Teeranitayapab) and Kijjaz Monotone (Kijjasak Triyanon). Both have worked with him from the first album.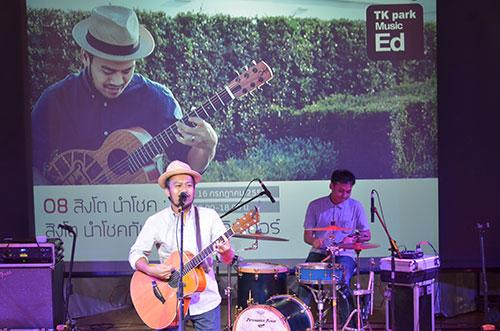 Regarding writing English lyrics, Singto has his own techniques "My English friend helped me to write English lyrics. When writing the song "Ter Kue Kong Kwan", I didn't translate it word by word but told my friend about its concept and let him write it away. Melody doesn't have to be the same as well —it could be new song, new melody. This is the development from the existing songs."However, Singto thinks singing in Thai is more difficult."Singing a song in Thai is more difficult because every syllable contains an exact note. If the singer can't hit the right note, they will use some singing techniques to get it through, which many times leading to a good song. Unfortunately, that is not my style. I prefer singing out every word with its right note."
Although he has succeeded in introducing Thai music to international market, his tips for writing English songs are very easy "Part of my tips is using the basic words you've already known. If what you know is basic English like 'this is a cat'or 'this is a book', just use it! Working in music industry is similar no matter where you are. My English is not grammatical correct but good enough to communicate. If what I wrote is wrong, there will always be someone to correct it. So i don't have problems in composing songs in English. But if I have time, I'll study more."
Becoming successful at everything you did is not easy but if what you did is what you love, you will get a bit closer to your goal. "Many people asked me what is the key to success. I thought mine is doing what i love. I play music and have never getting bored of practising. If you do it with love you will have faith in yourself. You will ask yourself how to get there. To me, I had always wanted to make an album, so I asked myself how. If you can't do it now, you will keep practising and even if you fail, you will still have some fun because you do what you love."
Witchphol Pholpitakchai