Nanglen Band and their songs of life
Saturday 18 Jun 2016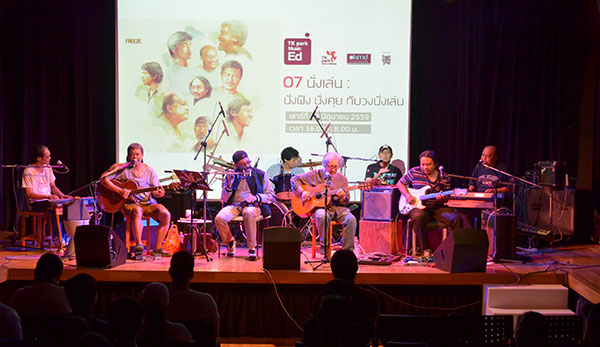 Nanglen Band and their songs of life
"Songs of Nanglen band focus on people's lives and realities in this planet earth. We want to create the songs that make 'A bigger than C' and make them valuable more than just entertainment."—Nanglen Band
The Nanglen band is formed by nine music masters who have more than 30 years' experience in Thailand's music circle. Their songs carry philosophical messages and encouraged people to see the bright side of bad situations. They are, for example, "Sailom" (The wind), "Dok Mai Nai Tee Lub Ta" (The flower is out of sight), "Jai Kon" (Human's hearts) and "Rak Yai Kwa Lok Tung Bai" (Love bigger than the whole wide world). These are the kind of songs that incredibly awaken the force within the listeners.
TK park organized "TK Music Ed 2016: Talk and Listen to Nanglen Band" on June 18, 2016 at TK park's Learning Auditorium on the 8th floor of CentralWorld shopping complex. The event created a chilled out atmosphere for guests and entertained them with cozy, live music performed by Nanglen Band.
The group's nine members comprise: Kamolsak "Pao" Soontanon (lead vocal), the owner of many popular songs including "Chai Loey" (That's right), "Khor Hai Muen Doem" (May we be the same), "Lao Su Kan Fang" (Tell me your stories); Panathep "Tun" Suwannaboon (nylon guitar), the executive producers of famous Thai artists and bands for generations including Charas Fueng-arom, Pan-Paiboonkiat Kiewkaew, Pu Anchalee and Lanna; Issarapong "Pong" Chumsai na Ayutthaya (keyboard), the ex-leader of Ploy Band and the producer of Thai artists like Tu Nanthida, Tai Penpak and Kob-Tang-Mos; Piti "Tu" Limcharoen (acoustic guitar), the owner of the songs like "Ya Yom Pae" (Don't give up), "Rak Thur Jing Jing" (Really love you so), "Jai Oey" (The heart) and "Rak Thur Niran" (Love you forever); the former vocalist, Krirksak "Pom" Yuwahong (drum percussion); Pornthep "Tun" Suwannaboon, another drummer; Seksit "Tan" Fukiatsuthi (keyboard) who is behind the famous songs like "Patihan" (The miracle), "Kon Mai Mee Wassana" (The unfortunate man) and "A Tu Corazon"; Therdthai "Keng" Thongnak (electric guitar) who is behind the success of famous artists like J Jetrin, Dan-Beam, China Dolls; and Sarawut "O" Ritthinan (bass), the sound engineer for KAL, Lanna, Punch, etc.
"TK Music Ed 2016: Talk and Listen to Nanglen Band" opened with "Kwamsuk Mai Chai Nok" (Happiness is not a bird) implying the beginning and end of sorrow and happiness which cannot be bought nor last long; followed by "Dream" implying the thought about finding your dream and make it real; and "Sing Thee Pen Kub Sing Thee Hen" (What it is and what you see).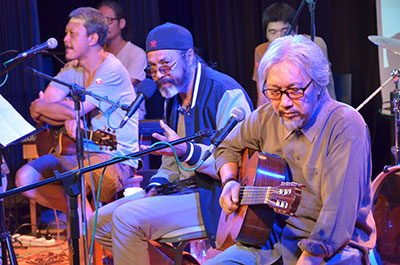 "All the songs are mostly composed out of the belief that sorrow and happiness are eternal cycle and I want to remind people of that point through the songs. "Sing Thee Pen Kub Sing Thee Hen" is the 2nd record of Nanglen Band. Back then I talked about this with Tun because normally our songs are created from the talk about life in general. It comes from the idea that there are only two things in the world: what is it and what we see, which might not be the same things because what it is might not be able to see with bare eyes," said Pao Kamolsak recounting the beginning of their music compositions.
"If you ask me why our songs, like "Sing Thee Pen Kub Sing Thee Hen", are not like normal songs, no A, B, hooks or the like. To answer this, I have to take you back to when worked as the music production team in big organizations. That time we had to rely on what most people liked and produced the songs that would make a hit. Until at one point we wanted to produce the songs from the inner self, with no worry about marketing or music standard. Like this song, it is to tell about what it is and what we see; it has a story in itself. We just need to make it fit, not with the standard but with our inner self. When we feel it's fit, then it's fit," said Tun Panathep explaining the style of composing the song, "Sing Thee Pen Kub Sing Thee Hen".
After the small talk, Nanglen Band played the songs with the message reflecting the society and life, including "Fa Ying Mued, Dao Ying Sawang" (The darker the sky, the brighter the star), "Proh Thur" (Because of you), "Dok Mai Nai Tee Lub Ta" (The flower is out of sight), "Kon Dee Mai Mee Wan Tai" (Good people never die), "Sing Sommut" (Hypothetical things), all reflecting the reality towards this planet earth.
"When we first entered the music circle, working in the company, definitely it was commercial because they invested in it. They told us not to make the songs for purely the art's sake because it would not be a good sale. We could do the commercial art; it could be the art but of a good sale too. We have been in that point for decades so now we just want to make the songs for purely the art's sake, not for commercial. It's no surprises the songs of Nanglen Band aren't about love or romance and personally I don't believe that no one like this style of songs. I still believe that there are a lot of people who like the songs in this style. Well, actually if there are 5 or 10 people who really listen to our songs, we would be happy."
Before the end of this mini concert, Nanglen Band also brought the brand-new songs that had never been played anywhere else to play at TK park for the first time. It was the song, "Namwan" (The syrup), created from the crystallization of thought about making the good deeds and people complaining why they don't get good things from making good deeds. They wrote this song to tell those people to keep on making good deeds because good deeds are still good deeds no matter what. They topped and ended this mini concert with Nanglen Band's first song, "Sailom" (The wind), another meaningful song from the legendary music masters who leave us with the good thought:
"Embrace the sorrow; befriend them, for they are inevitable. The more discouraged you feel, the worse the situation becomes. So let's nourish your heart by singing a song."