Prang Prangthip and the Applied Lukthung
Saturday 16 Apr 2016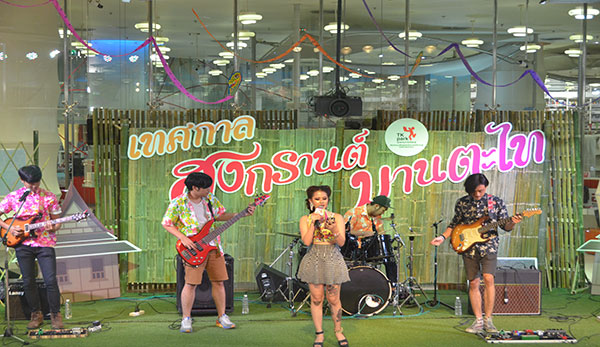 Prang Prangthip and the Applied Lukthung
TK park organized "TK Music Ed 2016: Modern Lukthung with Prang Prangthip" with the path to become an artist in the music circle of Prang Prangthip, the female singer from The Voice Thailand Season 3, who applied the Thai lukthung (folk music) to the modern music, creating the trend of lukthung music interests among people of new generations.
Prang's modern lukthung trend started during the competition in the Blind Audition of The Voice Thailand Season 3 on September 7, 2014 – the 1st round of the program which judged from the 'singing voice' only. This little girl from Chiang Rai Province sang the everlasting lukthung song, "Sao Na Sang Fan" (Farm girl pleading with her man), in rock style before ending with the traditional luktung singing style, making the four coaches turned their seats to choose her in unison and she still impressed them in the later rounds.
"During The Voice competition, many people wondered why I chose lukthung song because there were many songs of various styles to choose from. I chose "Sao Na Sang Fan" because I could sing lukthung song and I told the music director that I would begin with rock style and end with lukthung style. I practiced alone for one week and went at it on the stage," said Prang, telling about her choice of song for the competition in contrast to other contestants' choices of international songs.
"I started singing when I was two. I couldn't talk that time, but I could sing. I never took any singing course; I just listen and sing along with the songs. Actually I can sing all kinds of music and I like all kinds of music but my first attempt of singing was the song of Yui Yat Yoe. I was in Grade 1 and still couldn't read. My mother noted down the lyrics and sang for me one time. I copy her singing and won the contest. The note-drawing, the singing technique and style just came to me naturally. It was all from my own understanding," said Prang, recounting the history of her first singing talent.
"When I was in Grade 9, I studied at Ja Nok Rong School in Phitsanulok. I had a chance to join Ching Cha Sawan Singing Contest and started singing lukthung songs seriously since then," added Prang. Her existing skills plus the opportunity to be in the school where many singing artists are created, Prang then has fully expressed her singing potentials.
When The Voice Thailand Season 3 finished, her name did not faded away. Her fan club has been looking forward to seeing her works. They went through the rerun of her performances in The Voice every day for the love of her voice.
Then, when everything is ready, Prang now has the her first single, "Lamu Lamu" in the album "They are compilation" under I AM, a co-project with The Voice friends including Jimmy Surachai, Ohm Nawapon and Farm Panithan.
"The song is not pure lukthung, but rather a modern EDM (Electronic Dance Music). "Lamu Lamu" is from the language secretly used among the homosexual called Lu Language. I understand it because I have heard my friends speaking but I can speak only a little. This song is specifically made for my majority of fan club who are the homosexual," said Prang. This song is unique in its rap part of Lu Language combining with Thai verses and the scent of lukthung note-drawing style. "The symbolic charm of lukthung is the note-drawing but my song is something in between, like a hybrid of everything so it's more of a teenage thing," said Prangm explaining about her hybrid-style of lukthung music which is so popular among the teens.
Despite her image as the new look of lukthung music, Prang admitted that it might damage the traditional one. "I admit that it does not comply with the norm. It's just a mixing of non-Thai things. I apologize for that but I still want Thai people to take something new, to appreciate what is more novel than music," explained Prang.
It's deniable that more and more people of the new generations become interested in lukthung music because of the trend of other music styles mixing with lukthung music just like what "Lamu Lamu" does. Perhaps the possible way to maintain the lukthung music is to 'apply' the old things to get along with the modern society without leaving the Thai roots.
Witchapon Ponphitakchai