CONTEMPORARY WORLD FILM SERIES: 'Ready to roll. Exterminator', POLAND
Saturday 18 May 2019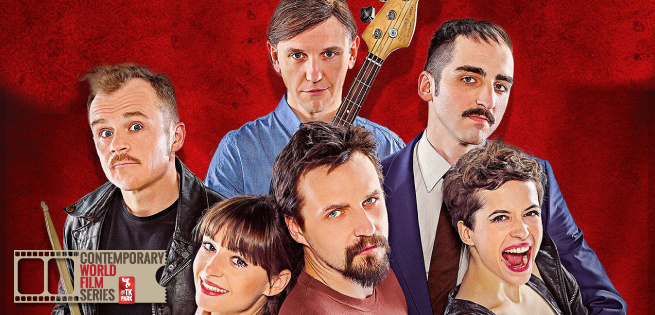 CONTEMPORARY WORLD FILM SERIES:

'Ready to roll. Exterminator' ('Gotowi na wszystko.Exterminator') POLAND
Directed by Michal Rogalski
117 Mins
(ENGLISH Sub-Titles)
SATURDAY, 18 MAY 2019, 4:00 PM
We are proud to present a unique and vibrant movie from Poland, as our Opening Film of 2019.
The movie Ready to Roll. Exterminator has nothing to do with the 'Exterminator' film series, but centers around a heavy metal Polish music band, whose strong rhythms 'exterminate' all others around them!
When the film opens, the band has broken up for a decade, the founder of the band has passed away, and the others are doing various jobs, including one who is undergoing therapy in a medical Centre.
The chief protagonist of the film is the energetic Marcin, who misses playing music tremendously.
Things change, when the Lady Mayor of the 'potato-town' where they live (noted only for its potato farms) suddenly sends for him and offers him a cultural grant, to revive the band, play music, and resuscitate their dull rural town.
Marcin works very hard to convince his band-members to re-group, and finally, the Exterminator band is 'Ready to roll' (hence, the movie-title).
This does affect his relationship with his lovely girlfriend Magda, but the music-crazy guitarist yearns to be back on stage.
It's only slowly that the highly individualistic band realizes that they have been hired, to play not their kind of deep metal music, but light, popular, dance-rhythms, at Sunday-parks, to a sparse and motely group of ignorant people.
How they deal with this situation, as they try to resurrect their music, is what the film portrays, with energy, enjoyment and high comedy. There is never a dull moment in this action-packed drama, which is studded with a memorable ensemble cast, including a famous musician-actor as the chief protagonist. Every character, from the bureaucrats to the artistes to the family-members, is painted with humor and feeling. And important issues, like the freedom of the artiste, clash between the personal and professional, difference between normal and abnormal behavior, is portrayed with insight and intimacy.
The film created waves at festivals abroad, and was a big 'hit' at home.
Don't miss an Opening Film that combines art, family, love, music with ease and humor, a comedy that leaves you tapping your feet and chuckling with enjoyment.
The screening of 'Ready to Roll. Exterminator' is supported by the Embassy of the Republic of Poland.
Polish Ambassador HE Waldemar Dubaniowski will introduce the film.
=========================================================
The Film Auditorium will open at 3:00 pm
Entry Fee: 20 B
There will be snacks and drinks, after the screening.
For Reservations:
e-mail: filmforum17@gmail.com
Online Register >> https://goo.gl/forms/Dmq5JBS8ByzZ6V7x2