Gym and Swim - Still Doing It for Fun
Saturday 21 May 2016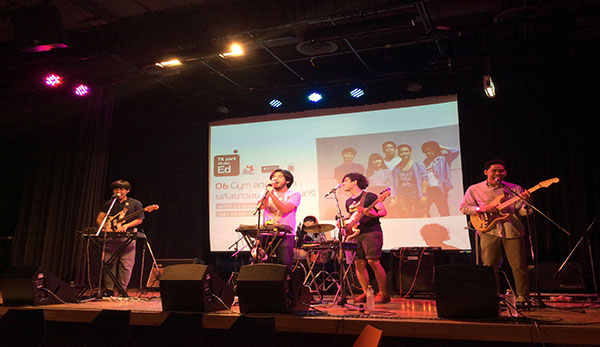 Gym and Swim — Still Doing It for Fun
The phrase "doing it for fun" probably sounds like being careless or not taking things seriously and it might make you wondering if the results would always turn out fun. Actually, doing things for fun could help reduce our pressure, freeing us from invisible restrictions and many times, leading to unexpectedly positive outcomes.
Keeping this in mind, TK park organised TK Music Ed. 2016: Gym and Swim featuring the popular indie band under the same name who livened up the stage with their fresh and fun music and revealed how they turned the "doing it for fun" into a successful work.
Gym and Swim is the product of the Bedroom Studio Project One: Turning Film into Music. The contest required the candidates to submit the songs inspired by films. That was when Turk, Nitikrit Attakrit (The Leprosy) teamed up with Chalerm, Chalermpol Soongsak (Seal Pillow) to make independent music to enrol in this project. They were later joined by Pong, Pokpong Jitdee (Plastic Plastic), Hob, Pattadon Ngaobenjakul (Detail) and Madmee, Suparat Janthornchote (Merry Go Round).
"Back then we didn't have any films in mind but Pong had made it easier for us by singing out this melody hook. He sang something about he wanted to be Ironman. We were not sure what it meant but we thought it's catchy." Chalerm recalled when they composed the song "Ironman" which turned out to be their kickoff. Since then, Gym and Swim has created music with distinctive sound and freshly creative lyric which make them famous in niche market.
"We were not so serious about doing it then, we just wanted to have some fun. But when It's become our profession, we started to talk and think that we had to take it more seriously. It took time at first because after 'Ironman', we still couldn't find our own style. We made a lot of demos — we had many versions for only one song." The lead singer talked about their difficulties in composing the second single "Octopussy".
"At first, we wrote this song in Thai. But when we came up with the right melody, the lyric just didn't go together. Also, we wanted the lyric to be ambiguous but still contain some deep meanings, so English was our solution. One day while mixing the song, Pong tried adding some percussion tracks and it worked! The percussion has brought an energetic pace, making the song much more interesting than using rock guitar." It's taken around one year for the band to finish all the songs because all members were working full-time, so they had to do music during weekends.
Starting from something fun, their album has been surprisingly warmly welcome, making them want to improve to the next level but this time, with more experience. The next singles 'YUUWAHUU' and 'Bunny House' have gained equally success. "We want our audience to enjoy our music. We just started off so we don't want to look too far. Right now, we just want to finish our full album. We're still collecting experience and improving ourselves. Forming a band is not something easy. It is a kind of work and every work contains some problems. But in no way we will lose our fun."
Now, the competition in the music industry is getting fierce, every music groups are using marketing strategies to approach their target audience. Artists are being groomed while content and music styles are being shaped to match the market demands. Gym and Swim is nurtured under Parinam Music but they insisted that they will still be the same — making songs they know they're good at. "Probably because none of us has intention to make a living on music, we can focus on doing what we love. Marketing is important but if we value marketing success too much, we will go nowhere. Some bands are famous from producing indie music. We would like to be the same," explained Chalerm. He then commented further about copyright infringement. "We don't mind how you get our music as long as you get it right and legally. We believe that if the audience like our songs, they will support us somehow — whether by buying our CD or coming to our concerts."
According to Gym and Swim, "doing it for fun" doesn't mean not taking things seriously. On the contrary, it means that you have to be dedicated and do all your might to become successful. But before that day, if you have no fun, you won't be getting there.
Witchphol Pholpitakchai